One of the most commons questions we get asked by coffee shop owners is "what is the best coffee machine out there?" our answer, although somewhat biased, is the same every time; SanRemo Espresso Machines.
When we started Casa Espresso in 2000 our mission was simple; help local Coffee Shops thrive and serve the best coffee possible.
In order to do that we had to make sure we supplied the best products on the market and after visiting the SanRemo factory in Italy we knew that we'd found the best range of commercial coffee machines available.
Since then we've been the authorised supplier of SanRemo in West Yorkshire, supplying them to a range of businesses and the feedback we've received is unanimous – "We love our SanRemo!"
What makes SanRemo the best coffee machine on the market?
In one of our earlier blog posts we looked at making sure you pick the right type of machine for your business in terms of size and capabilities but it's also important that you don't overlook quality.
Buying something that can "do the job" is often a bad idea and you'll ultimately end up spending more in repair bills down the road which is never cost effective. So with that in mind, what makes SanRemo the espresso machine of choice for both our customers and coffee shops worldwide?
Build Quality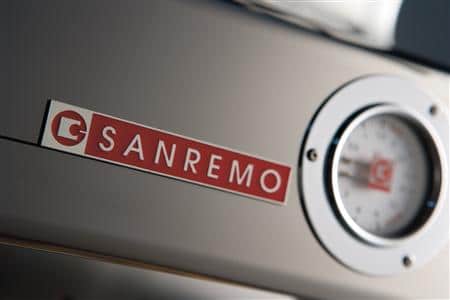 The key element behind any commercial machine is its overall build quality. It doesn't matter how good it looks on the outside, the parts inside have to be top quality. If you consider that some coffee shops can do in excess of 500 cups per day that's some serious wear and tear.
Investing in a cheaper machine to save costs in the short term often sees them spiral in the long term. Perhaps the biggest asset of SanRemo machines is their build quality; every aspect of the machine is built to last.
All the machines are precision manufactured in the SanRemo facility in Italy and in their own words:
Total SanRemo quality covers the entire production cycle, from designing the models to their series production. Our commitment to product quality goes so far that we double test the espresso coffee machines before every delivery. SanRemo's full range of professional machines and products for automatic distribution are made with parts that are highly dependable.
The Machine of Choice at the UK Barista Championships

For those of you who are familiar with the UK Barista Championships then you'll know that SanRemo machines have been used for the last 3 competitions and the SanRemo Verona TCS will also be the machine of choice for the 2013 UK Barista Championships.
This recommendation speaks for itself; the best Barista's in the country need the best machines to get the most out of their skills. SanRemo machines always perform under pressure and the Temperature Stability Control available on the Verona and Roma models allows the barista to obtain optimum brewing results by setting separate temperatures for each group.
Stunning Looks
If you're a fan of TV soaps then you might have seen the SanRemo Verona gracing the screen in Hollyoaks in College Coffee. There's a reason Channel 4 picked a SanRemo machine for the coffee machine in Hollyoaks and that's because of their stunning looks and gorgeous design.
Many of the coffee shops we've supplied to build their entire shop around the machine and that's with good reason; they make an exquisite centre piece. Not only does the machine wow customers with its looks, it helps increase sales because customers think that such a great looking machine has to produce great tasting coffee. This is hopefully the case!
Reliability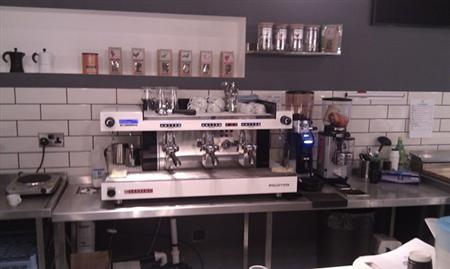 Looks aside, SanRemo machines are extremely reliable, mainly due to the high quality nature of the components. All the machines are manufactured on site at the SanRemo facility in Italy and go through a rigorous quality control process.
In fact a recent survey from SanRemo UK found that they received on average less than 1/2 a service call per machine per year. How's that for reliability?
Another added bonus is although the machines are at the forefront of technology; the inner workings of the machine are kept simple so that if things do go wrong, they can be fixed fairly easily and parts are readily available in the UK.
Different Models to Suit Every Need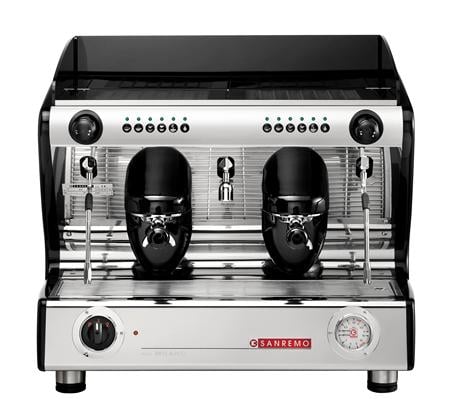 Perhaps one of the biggest advantages of the SanRemo range is that they've taken into account the varying needs of different size establishments. Unlike some manufacturers that opt for a one size fits all approach, SanRemo have so many different machines that are suitable for all types of coffee shops.
So if you're a busy hair salon that wants to offer coffee to your customers then you'd need a small group head machine as it's unlikely you'll be doing in excess of 50 cups a day; enter the San Remo Milano.
Whereas if you're a city centre hot spot for lunch time trade then a much bigger machine is required that can brew 4 coffees simultaneously – just like the SanRemo Verona TCS.
They Listen To Customer and Distributor Feedback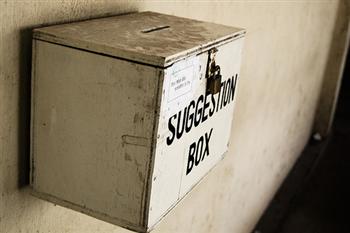 It's important for any organisation no matter what they're size to listen to feedback and SanRemo do just that. In order to stay at the forefront of the coffee machine industry SanRemo not only listen to feedback, they implement it into their upcoming designs.
Take for example when the Roma TCS was released, a lot of people loved its stunning design and style but at the same time there was also a demand for something similar that was both smaller and more affordable. So what did SanRemo do? They brought out the Zoe this year.
We also know that there's some exciting products coming our way in 2013 which will be showcased at the end of this month in an event over in Italy. Stay tuned!
Have you used a SanRemo machine before? Please share your experiences with us below, good or bad! And if you have any questions about our machines or would like to demo one please contact us.