In this post we continue the our restaurant theme and identify coffee machines suitable for a range of restaurant sizes, highlighting the machine characteristics required to accommodate the varying demands restaurants face.
Regardless of size and cuisine, the importance of providing a quality coffee offering as part of the beverage mix is more important than it ever has been. A study by Nespresso in 2012 showed that a quarter of diners wouldn't return if they were served below par coffee, highlighting how consumers are going beyond food and service when judging a restaurant. Continue reading if you're looking for a coffee machine for your restaurant.
Factors that Determine Machine Choice
To keep things simple, we identify the main factors that influence coffee machine choice in a restaurant environment:
Restaurant seating capacity – the number of potential coffee drinking customers
Barista demand – the number of baristas who require simultaneous use of the machine
Countertop space available – the bar area you have to accommodate the machine and peripheral equipment, including coffee grinder and knock out drawer.
Design and colour – the décor of a restaurant impacts the style and colour combinations you need your coffee machine to complement.
Alongside these factors, the type of cuisine offered also impacts coffee demand in a restaurant. Typically, eateries such as Italian restaurants and English pubs witness an above average demand for coffee, whereas Indian and Oriental restaurants are amongst those likely to see a much reduced consumer demand for the post meal coffee.
Coffee Machines for Small or Low Demand Restaurants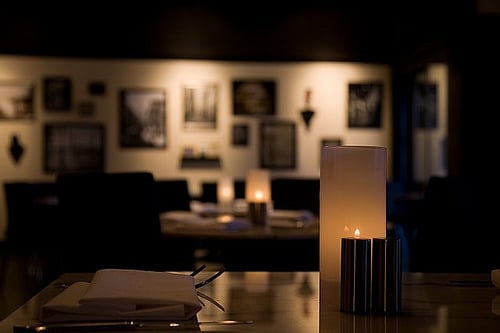 General Characteristics:
Seating capacity: up to 50 diners
Countertop width available: 100cm- 150cm
Simultaneous staff demand: Only 1 Barista
Example Eateries:
Intimate fine dining restaurants
Thai restaurants
Pop-up restaurants
Recommended Machine: Sanremo Zoe – 1 Group Head Model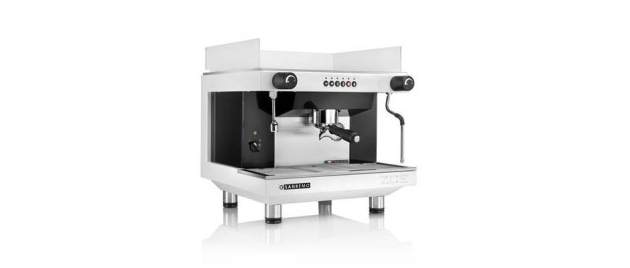 Overview
The single group head Sanremo Zoe is perfectly suited to small restaurants and those with low coffee demand. Measuring just 53cm wide, this compact machine can be conveniently positioned on countertops that are restricted on space. Whilst much reduced in size compared to its 2 and 3 group head counterparts, the single group head Zoe does not lack the build quality or any of the features that make this machine an impressive solution to serving great coffee in small restaurants.
Another attraction for style conscious establishments is the ample design options available with the Zoe, allowing multiple custom colours to create a machine that complements your interior to a tee. Benefitting from a reduced price tag, Zoe caters for your cash flow as well as your customers coffee requirements and positions itself as one of the most cost effective commercial coffee machines currently on the market.
Also consider: Expobar G10 or Sanremo Capri
Coffee Machines for Average Size & Demand Restaurants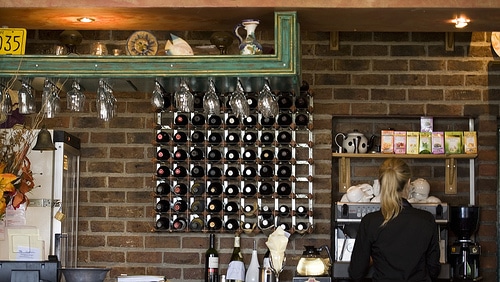 General Characteristics:
Seating Capacity: 50 – 150
Countertop Length Available: 150cm – 200cm
Simultaneous Staff Demand: 1-2 Barista's
Example Eateries:
Popular suburban restaurants
Food focussed pubs
European restaurants
Recommended Machine: Sanremo Torino – 2 Group Head Model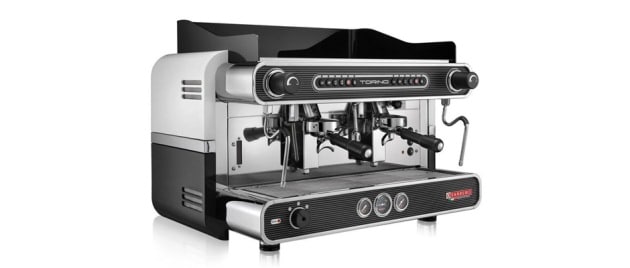 Overview
The Torino inhibits a perfect blend of retro style and modern substance. A 2 group head machine that can be operated by 2 baristas simultaneously, with an output of 4 espresso drinks in a single operation. During busy periods, such as Friday and Saturday evenings, the Torino is up to the job of providing your diners with high quality coffee drinks.
This mid-sized commercial coffee machine provides versatility for restaurants with busy and quiet operating periods. Renowned for its ease of use and barista friendly features, a single training session is enough to turn your staff into competent coffee machine operators.
Showcase the Torino in its full potential with upgradable built in spotlights to add the extra touch of glamour to your counter, providing a relaxing night time ambiance your guests will enjoy.
Also consider: Sanremo Verona SED 2 Group or Sanremo Zoe 3 Group
Coffee Machines for Large or High Demand Restaurants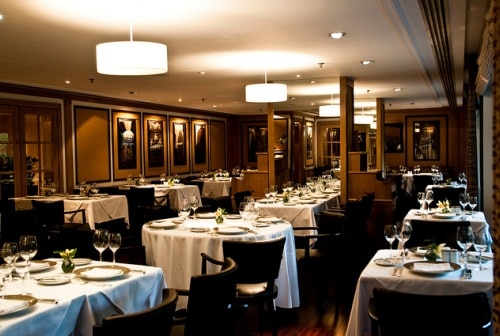 General Characteristics:
Seating Capacity: 150+
Countertop Length Available: 200cm +
Simultaneous Staff Demand: 2-3 Barista's
Example Eateries:
Hotel Restaurants
Bustling City Centre Restaurants
Large Italian Restaurants
Recommended Machine: Verona TCS – 3 Group Head Model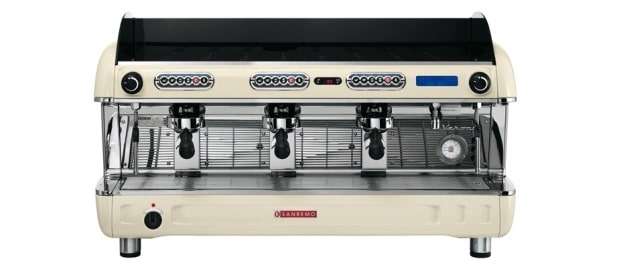 Overview
Capable of simultaneously brewing 6 coffees, the Verona TCS edition is the workhorse of busy restaurants across the UK. The impressive build quality is matched with the fantastic array of barista friendly features, including temperature control to stabilise brewing temperatures across multiple drinks. It's these capabilities that make the Verona TCS the best coffee machine for Italian restaurants, who're guaranteed strong coffee sales throughout the day and into the evening.
The Verona is now available in silver, black, white pearl and the stunningly beautiful red edition, a real standout centrepiece in restaurant décor. Large establishments that want the presence of a big coffee machine will find the Verona an ideal solution.
Also consider: Sanremo Roma TCS
Whatever your requirements, Casa Espresso have helped restaurants provide excellent coffee for over a decade. Combining professional coffee machines and delicious coffee blends, with first class barista training and machine support, Casa Espresso is the full service coffee partner you can rely on. If you have an enquiry please telephone Nino on 01274 595841 today.
Photo Credit:
Small restaurant http://www.flickr.com/photos/luciarestaurant/2924905290/
Medium Restaurant http://www.flickr.com/photos/infomatique/
Large restaurant http://www.flickr.com/photos/portobaytrade/4724017622/