This is the 5th version of our best seller seasonal espresso blend. Expect great balance and a dense creamy body with a caramel and stone fruit acidity.
Great Taste 1 Star Award 2018, 2020 & 2022 – 2 Stars in 2019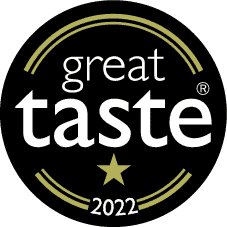 We're delighted to announce that the Unione Espresso Blend has been awarded again a 1 Star in the coveted Great Taste Awards 2022.
Please check our blog post about the price increase

here
The Coffee
50% Brazil Patricia Coelho:
Patricia is a small farmer located at Mogiana, in the city of Espirito Santo do Pinhal. She is taking over the family business now and is facing the challenges that most women do when taking a lead position in Latin America. Not only a producer of great coffees, Patricia is also Bruna's personal friend, from Kamba Coffee who we purchase this coffee from. That friendship is important because they are working together to help her get started in the specialty industry. Natural process grown at 1100 masl.
50% Colombia Volcano:
Volcano Program.This program is incredibly special for a few reasons. Nariño has the highest altitude at which coffee is grown in Colombia which also means temperatures are quite low. This results in the slow maturation of cherries which ensures higher levels of sugar in the coffee. Another important factor that makes the coffee from this region so unique is the rich soil found in Nariño. Unlike many regions in Colombia, Nariño's soil is extraordinarily rich in volcanic ash which is mainly due to the high volcanic activity in the area. Typically, volcanic ash in soil is rich in nutrients and contributes to a much healthier plant and higher complexity in the cup.
The coffee is grown at 1700-2200 metres above sea level and is a mix of several varietals consisting of Caturra, Castillo and Typica. It is a washed processed coffee.
Download Unione Espresso Blend  brew guide.
Please note 1kg bag orders will be sent as 2 x 500g, if you still would like a Kg bag please state this at checkout
Roasting Information
All web orders are posted on Wednesday, please order by Midnight Monday to receive same week delivery. Any orders received after Wednesday, will be processed the following week. If you need to order outside of our roasting days, please contact us.
Subscription
Make sure you don't run out! Click here to subscribe for 3, 6 or 12 months.