This is the 6th version of our very first seasonal espresso blend. Expect great balance and a dense creamy body and notes of dark chocolate, caramel and stone fruit acidity.
Great Taste 1 Star Award 2018, 2020 & 2022 – 2 Stars in 2019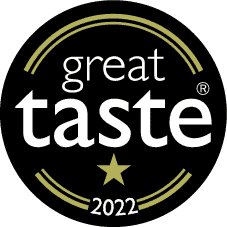 The Coffee
50% Brazil Boa Vista:
Producer Jose Ricardo Stabile has been from a grain producing family for generations. His mission is to provide a great breadbasket for the world. This purpose led José Ricardo, and his brother Antônio Ronaldo, to decide to diversify their crops, expanding into coffee growing as well as grains. Inspired by the region's producers, José Ricardo sought the best to implement his crop: favourable land, cultivars, investment, and handling. With the support of his daughter Luiza, his nephew Bruno, and his brother Antônio Ronaldo, they embarked on this great dream together – to deliver a perfect cup to coffee lovers.
Pulped Natural process grown at 1030 metres above sea level and consists of Red Catuai variety.
50% Colombia Volcano:
Volcano Program.This program is incredibly special for a few reasons. Nariño has the highest altitude at which coffee is grown in Colombia which also means temperatures are quite low. This results in the slow maturation of cherries which ensures higher levels of sugar in the coffee. Another important factor that makes the coffee from this region so unique is the rich soil found in Nariño. Unlike many regions in Colombia, Nariño's soil is extraordinarily rich in volcanic ash which is mainly due to the high volcanic activity in the area. Typically, volcanic ash in soil is rich in nutrients and contributes to a much healthier plant and higher complexity in the cup.
The coffee is grown at 1700-2200 metres above sea level and is a mix of several varietals consisting of Caturra, Castillo and Typica. It is a washed processed coffee.
Download Unione Espresso Blend  brew guide.
Roasting Information
All web orders are posted on Wednesday, please order by Midnight Monday to receive same week delivery. Any orders received after Wednesday, will be processed the following week. If you need to order outside of our roasting days, please contact us.
Subscription
Make sure you don't run out! Click here to subscribe for 3, 6 or 12 months.