Picking up where we left off with our review of the Sanremo Roma, our latest installment to the Hotspot on Machines series casts an eye over the much celebrated Sanremo Zoe.
We take a look at the pros and cons to the Zoe, the applications she best lends herself to and what features help to set this model apart from the competition.
Don't forget, If you are thinking of upgrading an existing machine or opening a brand new coffee shop, be sure to check here for the latest Sanremo machine reviews, opinions and advice, helping you make the right choice for your business.
The Zoe – Overview
The Zoe from Sanremo is a modern and stylish addition to the fantastic line up of coffee machines from Sanremo. Released in 2012, the coffee machine is now available with one, two or even three group heads, making the Zoe range suited to a wide berth of applications.
Thanks to its basic structure and small size of the coffee machine, it fits perfectly with modern cafés where space is limited and strictly structured. For these reasons the Zoe is categorised as an entry level model, with a price tag to reflect this, representing extreme value for money from a machine that benefits from an attractive and highly customisable design.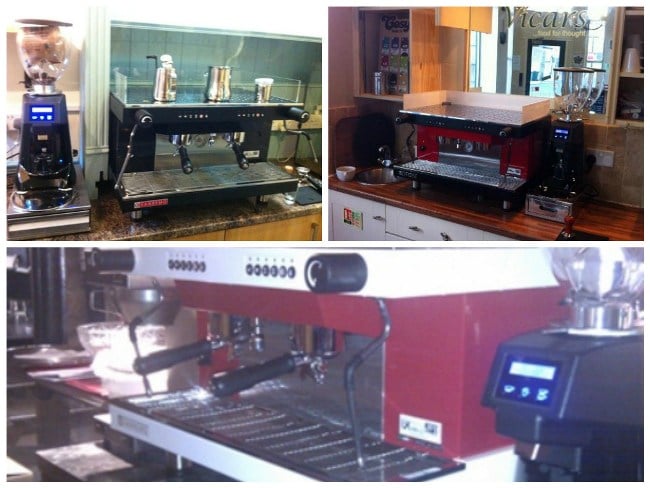 Size & Applications
The one group Zoe is ideal for the small café, pub or restaurant environment that doesn't have a high demand for coffee, but refuses to compromise on quality. The two group version is suitable for small to medium sized café's or sandwich shops, which have busy periods, but overall output and demand remains average.
For city centre establishments and locations where barista demand remains high over an extended period of time, the three group head option will satisfy these requirements.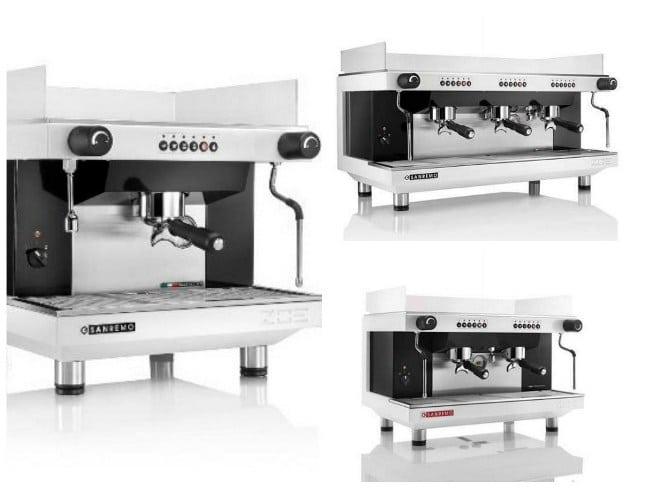 Power Requirements
The Zoe runs off a normal 13 amp socket.
USP (Unique Selling Point)
Unlike most commercial coffee machines, the Zoe can be customised with 2 colour variants that allow you to create a machine that perfectly complements its surroundings. The upper and lower part of the machine can be chosen in white or black and then coupled with a selection of vibrant body colours, including red, purple, yellow, green and black.
What's more, the colour panels of the Zoe are wholly interchangeable and allow for future colour customisations. This is an ideal feature for establishments that expect to incorporate décor changes, allowing your favourite equipment to keep up with any interior changes. The flexible nature of the machines colour also adds to its resale value as a wider appeal is achieved.
Compromises
Although Zoe looks a million dollars, the machine is actually categorised as entry level. Unlike certain Roma and Verona models, Zoe does not incorporate the advanced temperature control system that allows baristas to achieve a more consistent brewing temperature. However, without this Zoe is still able to produce a very high quality coffee, with an alluring design worthy of any countertop.
Picture Credits
Special thanks to:
Vicars Cafe Bistro, Saltaire http://vicarscafebistro.co.uk/
Il Mulino, Hebden Bridge http://www.ilmulino.co.uk
Victoria Tearooms, Saltaire http://www.victoriatearooms.co.uk/