For the final blog in our Hotspot on Machines series, we have left the most glamorous, the most stylish and the most desirable until last; the Sanremo Roma.
The Roma – Overview
The Roma is undoubtedly the Grandfather of the Sanremo family. Available in two and three group head size, the Roma is the Ferrari of the range. It has temperature control technology, enabling each group head to serve espresso at different temperatures, which helps reduce your energy consumption.
It has a self-cleaning programme, programmable on/off timer, manual safety circuit, adjustable feet… and the shape, bodywork and clean lines to rival any Italian sports car. This is Italian design, through and through.
Even better, if you really want to, you can customise the black and white bodywork with mood lighting and a wood finish.
This is suited to the passionate barista who wants a real showpiece for his or her café.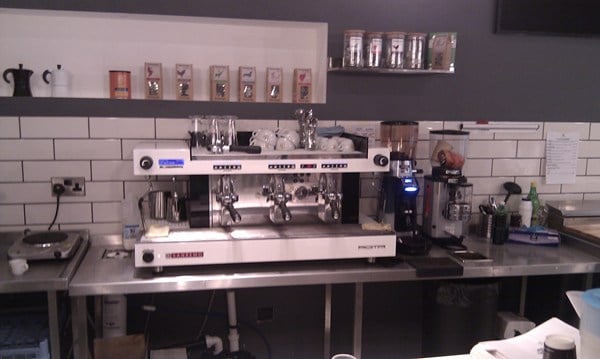 Power Supply
The two and three group head require single phase power.
Optional Extras
You can request a turbo steam wand for the Roma if you require it.
USP (Unique Selling Point)
Without a doubt, the selling point of this machine is its combination of TCS technology and its sleek, masculine design. No-one buys this machine to keep it out of sight, it MUST be displayed proudly, as the focal point of any coffee bar.
Compromise
After buying this machine, you won't ever be happy to use another machine again. Also, its big. Really big. So you will need a lot of room for it.
Picture Credits
Thanks to Bottega Milanese, Leeds