Introducing our new "Plastic Free" bags
We have always been committed to producing delicious coffee in an ethical and sustainable way, and always looked at different ways in reducing our carbon footprint. Coffee packaging has always been the elephant in the room, the needs of having a bag that keeps the coffee fresh while being environmentally friendly has been very challenging, if not almost impossible. A few years ago a company in Holland started producing coffee packaging made of plastic, which is a great barrier in preserving the freshness of coffee, and it could be recycled with plastics. At the time this was a great alternative to the traditional coffee packaging, which having an internal line of aluminium, these were not suitable for recycling.
In theory these plastic bags ticked the right boxes, but we soon found out that in the UK these were impossible to recycle due to the very poor recycling infrastructure.
Most recently we switched our packaging to Mono Plastic bags, made from LDPE – low-density polyethylene, the same plastic that is used for single use bags from the supermarket, which can be recycled with soft plastics but they need to be dropped off at supermarket collection points.
Again this wasn't the best option and we kept looking for something better.
We asked YOU our customers via our social media channels what YOU really wanted as the best option for coffee packaging. And the top answers were: EASY TO RECYCLE & PLASTIC FREE.
Recyclable or Compostable?
In our search we came across a company producing 100% home compostable packaging, when we asked our customers if they preferred recyclable or compostable, 68% said recyclable. Also currently only 3% of the UK population have a compost bin! We wanted our packaging to be easy to recycle and flexible, meaning that with our new bags you can either recycle or compost them. Not just one or the other.
So after almost 10 months of searching and testing we think we have found the best solution.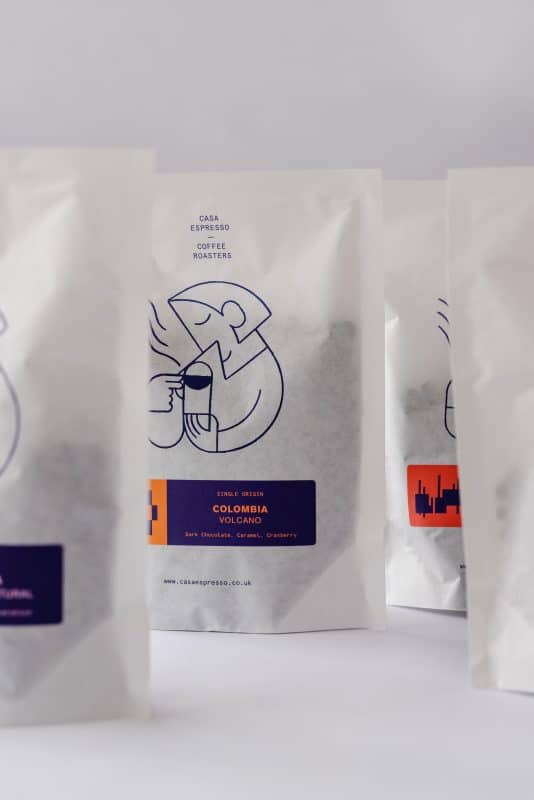 Earthpouch
What is it? Earthpouch is an environmentally-friendly packaging film which can be recycled as part of the paper stream. A paper with a 100% plastic free heat-sealable coating is formed into the pouch, providing a grease, water and moisture barrier, keeping your coffee fresh up to 5 weeks.
This is not as long as our old bags but when we asked our customers, most of them would finish the coffee within that timescale. That is also another reason why we introduced 500g bag option, as you can fit 500g in these bags, if 250g is too small and you don't want to buy a bigger 1kg bag. Please note 1kg orders will come as 2 x 500g bags, as these bags are not strong enough to hold 1kg. We hope to find a single bag solution for the kg bags in the future.
We would also recommend that you stored your coffee in airtight canisters, regardless of the packaging, a sleek solution to banish oxygen and keep your beans fresher than ever
These bags are sustainable, as they are manufactured in the UK from a renewable material source. They are printed using natural water-based inks, and the labels are made of Cane fibre biodegradable paper.
It will also feature a new look and branding in form of an illustration by Jay Cover, while our beautiful pattern designs by The Archipelago, will still be present on the new colourful labels.
We really hope you like these bags as much as we do, and when you have finished your coffee, simply recycle it in your household paper stream, put it in your food waste bin or home composter. Now that is easy!