Welcome to the latest instalment of our Hotspot on Machines blog! We hope you are enjoying finding out more about our commercial espresso machines, the pros, the cons and the benefits of buying a Sanremo from us. This week, the San Remo Milano Espresso Machine.
The Milano – Overview
Avaliable in one, two or three group head, the Milano can grow with your business! The Milano is ideally suited to a restaurant environment, where coffees are required in a steady stream throughout the day, with few busy periods.
Unlike the Amalfi and the Capri, the hot water from the spout is produced via a button, rather than a twisty knob.
The Milano also has the famous E61 groupheads (click here to read more about groupheads) which heats the water at the group head to ensure perfect temperature each time.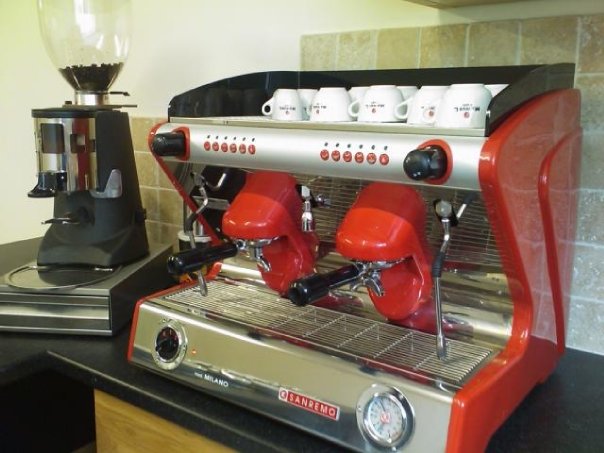 Power Supply
The one and two group Milanos require a 13 amp plug, but the 3 group version will need hardwiring into single phase electricity (similar to a cooker switch).
Optional Extras
Electronic shot counter is available on this model. It can also be fitted with a cup heater, an extra heating element on top of the machine, to assist in warming your cups faster.
USP (Unique Selling Point)
The Milano is ideally suited to restaurant or bar environments, due to its sleek looks, reliable quality of espresso thanks to the E61 grouphead, and ease of operation.
Compromises
The boiler size in the 2 group is 8.6 litres, which is smaller than the Amalfi or Capri.