Selecting a coffee grinder to complement your machine is one of the most important decisions a café or coffee shop owner can make. As is the case with most products, models that benefit from a greater build quality and more capable features tend to cost that bit extra. When success or failure of your business is determined by the quality of the drinks you're able to consistently produce, it makes perfect sense to opt for the right equipment for the job.
In short, there is little point in going to great lengths to choose a professional coffee machine to then couple it with a below average grinder. Although smaller and seemingly less significant, the coffee grinder plays a crucial role, not just converting coffee beans to ground espresso, but ensuring that this espresso benefits from all the qualities associated with a great tasting coffee.
A common theme of questions we're asked by business owners, particularly those embarking on their maiden food and drinks venture, revolve around 'What is the best commercial coffee grinder?' In most cases, we will recommend the Sanremo SR70 Evo commercial coffee grinder, for a number of reasons.
Continue reading to learn more about why we believe the SR70 is the best commercial grinder on the market and how its features help to differentiate its performance and reliability from the competition.
Sanremo SR70 Evo Commercial Coffee Grinder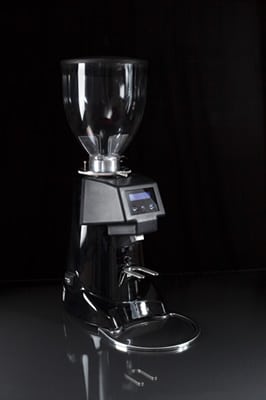 As a company recognised for creating desirable, user friendly and extremely reliable coffee machines, Sanremo are often overlooked for their ability to produce a worthy coffee grinder. This should no longer be the case, with a selection of durable, high tech grinders, Sanremo have positioned themselves as manufacturer to cater for both machine and grinder requirements.
The sleek black styling of the SR70 Evo makes it a real standout presence on any countertop, benefiting from a design that complements a wide range of commercial coffee machines, not just Sanremo's own offerings. Incorporating a wealth of features, all geared towards providing the barista with the fresh espresso so crucial to producing great tasting coffee drinks.
What Factors make the SR70 Evo the Best Commercial Coffee Grinder?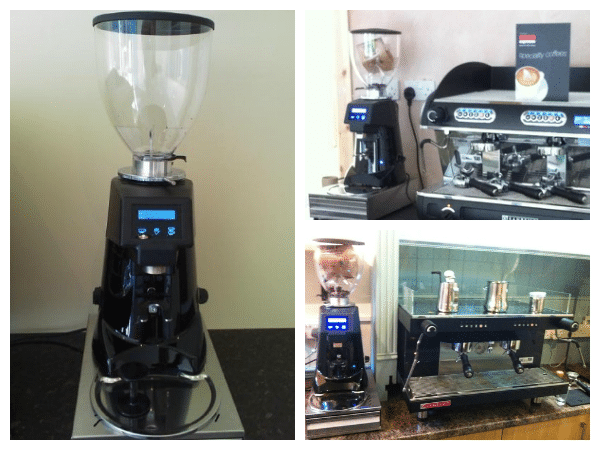 On Demand to Maximise Freshness & Aroma
As the name suggests, on demand grinders allow you grind the correct amount for an espresso based drink, typically a single or double shot, when required. Aside from the added flexibility offered with an on demand grinder, you will also benefit from fresher coffee that inhibits more of its natural flavour and aromas. This is down to the rapid decrease in freshness once ground, meaning the less time spent in the dosing chamber, the tastier your coffee will be.
Consistent Dosing Capabilities
The SR70 grinder uses state of the art electronic dosing technology, thus extremely precise and incredibly consistent. Renowned coffee shops are able to produce the same high quality drinks day in day out, grind consistency is crucial aspect of this achieving this through the production of consistent
Fast Grind Technology
Traditionally, on demand grinders suffer from time delay drawbacks as a result of performing a separate grind per drink. This would have a minimal impact on a small to medium sized cafe or coffee shop, but one that is looking to serve in excess of 400 cups a day will witness a bottleneck which can slow down the service speed. Operating at just over 2 seconds per grind, the SR70 ensures you can benefit from freshly ground coffee without any holdups.
Cooling System to Maintain Perfect Temperature
Consistent grinding can expose the coffee to excessive heat levels. The SR70 has a built-in fanned cooling system to ensure that even with prolonged use, the temperature will not impact on the freshness, aroma or flavour of your coffee.
Reduced Wastage
With an on demand grinder like the SR70 Evo you only grind the coffee beans when these are required, meaning there's no waste come the end of the day from grounded espresso that wasn't used in drink production. Traditional grinders bulk grind beans, but as highlighted above, lose their full taste and aroma rapidly after the grinding process.
In summary, Sanremo have created a coffee grinder that offers an immediate, accurate, fresh and fast coffee grinding solution and is why we regard it as the best commercial coffee grinder currently on the market. With a guide price of £975+ VAT the SR70 represents a smart investment for your business, one that will repay itself over time and time again with its barista friendly features, strong build quality and eye catching design.
If you have any questions or would like further information on selecting a commercial coffee grinder for your business, please get in touch with our friendly team today. Simply call 01274 595841 or send us a message online today.