This week's "Hotspot on Machines" features the Verona – our most popular, desirable and unique espresso machine. The Verona Series includes three models:
This Hotspot blog will consider how to choose which Verona is right for you, and how to customise it to suit your business.
Firstly, answer these quick questions:
Do you plan on using different espresso origins and blends?
Yes
No
Maybe
Do you serve a lot of takeaway drinks?
Yes
No
Maybe
Do you want to save energy?
Yes
No
Maybe
Do you believe every shot has a "sweet spot"?
Yes
No
Maybe
If you scored more than 3 YES – Verona TCS Tall Cup
You want to play around with different blends, origins and temperature, and make a cracking good shot in the process. You also want to run a commercially successful business, and make drinks quickly and profitably. Go for the Verona TCS Tall Cup, as then you can:
Adjust your group head temperature by degrees to enable each origin/ blend you serve to be served at the perfect temperature
Fit a takeaway cup or large mug straight under the group head
Save up to 30% energy consumption.
If you scored more than 3 NO – Verona standard (SED)
You love the look and the style of the Verona, but will be serving just one house blend, so the temperature control isn't as important to you as price. However, you still want all the features that a Verona has such as:
The self cleaning function
The 50s style and shape
The option to choose from Pearl White, Light Blue, Red, Metallic Black or Metallic Blue
If you scored more than 3 MAYBE – Verona TCS
Pick the Verona TCS, for temperature controlled group heads that can be adjusted if you decide to add different blends or origins in the future. You appreciate that different origins require different temperatures, but may not be ready to do this yet. In the meantime, practise on your existing coffee, and taste the difference!
The Verona – Overview
The focus of the Verona is style and substance. Each basic (SED) model has a pre-brew function, manual doser, self-clean function, on board diagnostics, shot timer, adjustable feet and cup warmer as standard.
The TCS model has the added advantage of having individually controllable groupheads as well. Each model is available in standard or Tall Cup, and in one, two, three and four group heads.
This is an ideal machine for a busy coffee shop, focusing on quality of coffee, the art of the barista, and the speed and accuracy of the service.
For any other environment, its just showing off. But in the fashionable world of coffee, there is absolutely nothing wrong with that, whatsoever.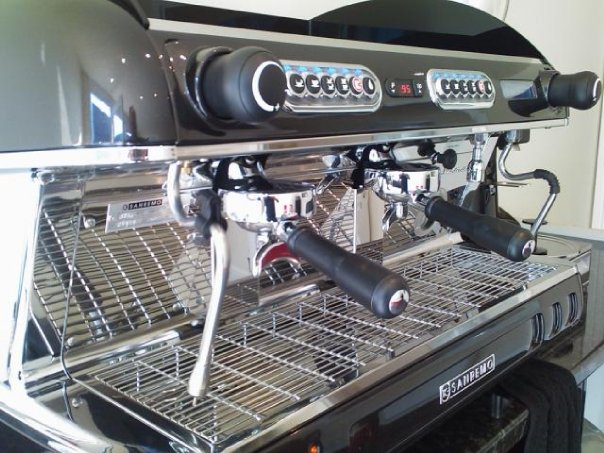 Power Supply
The Verona SED can be ordered on a 13 amp socket, but generally both the SED and the TCS will require single phase electricity.
Optional Extras
The Verona TCS Tall or standard can be fitted with a turbo automatic steam wand, ideal for high volume environments where staff may not be completely confident with milk texturing, or where staff are doing several things at once! (However, the Verona SED does not have this option).
USP (Unique Selling Point)
Its utter, indescribable beauty! The gentle curves and streamlined, 1950s Italian design have baristas the world over falling for its charms. This, matched with its intelligent features and focus on creating the perfect espresso made it a no brainer to be the official machine of the UKBC from 2009-2011.
You can even set it to come on and switch off at certain times of the day, ideal if you have forgetful staff.
Compromises
The price – this machine is not the cheapest, but it is worth every single penny in the right environment. Its also pretty big – so make sure you have checked it will fit on your counter!
Picture Credits
Thanks to The Perky Peacock, York
Thanks to Little Greek Pie, London
Thanks to Scoops, Saltaire.