Picking up where we left off with our review of the Sanremo Zoe, the latest installment to our Hotspot on Machines series takes a closer look at the incredibly stylish and retro Sanremo Torino coffee machine.
We take a look at the pros and cons to the Torino, the applications the machine is best suited to and what features help to set this model apart from the competition.
Don't forget, If you are thinking of upgrading an existing machine or opening a brand new coffee shop, be sure to check here for the latest Sanremo machine reviews, opinions and advice, helping you make the right choice for your business.
The Torino – Overview
The Torino from Sanremo is an all round commercial coffee machine that benefits from a perfect blend of brains and beauty. Often overlooked in the high capacity coffee machine market for the popular Verona and Roma models, the Torino provides an incredible alternative option for those looking for a machine that inhibits a traditional Italian design.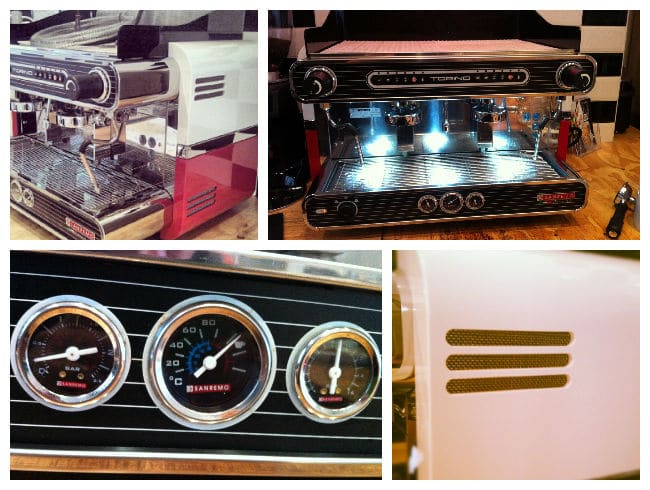 Core Features
Packed with incredible standard features, the Torino includes a large 12 litre boiler, fast steam wand, built-in rotary pump, pre-mechanical infusion and a height adjustable system making it the perfect machine for busy environments.
Design Highlights
Benefitting from its stylish retro looks, the Torino provides an incredible standout feature for your countertop. Based on the design of a traditional radio, the machine incorporates prominent dials and time-honoured temperature & pressure gauges that elude the quality and glamour witnessed in classical sports cars.
Size & Applications
Available in 2 and 3 group options, the Torino is aimed at cafe's and coffee shops with medium to above average customer demand. Opt for the 3 group and you'll benefit from a generous 19 litre boiler capacity that ensures periods of high demand do not compromise your ability to produce continual delicious coffee.
Power Requirements
The Torino runs off a 32 amp socket.
USP (Unique Selling Point)
The Torino's ability to combine modern technology with sophisticated design from a bygone era does not go unnoticed, making it an essential choice for retro cafes.
Here's what Creative Breads say about their machine:
"Very delighted with our Torino, a fantastic looking machine that delivers on all accounts. A user friendly machine that allows us to consistently produce great tasting coffee. We would happily recommend the Torino and the services of Casa Espresso to any business looking to serve great coffee."
Compromises
Unlike premium Roma and Verona models, Torino does not incorporate the advanced Temperature Control System (TCS) designed to offer baristas a more consistent brewing temperature. However, even without this you can still count on the Torino to work with your baristas and produce high quality espresso drinks time after time.
Are you considering buying a San Remo Torino coffee machine for your business? As a trusted Sanremo partner in the UK, Casa Espresso have a long-established reputation for providing a trusted machine installation and maintenance service. Don't hesitate to get in contact with us today for more information on our services for hot drink retailers.
Picture Credits
Special thanks to:
Creative Breads, Shipley www.creativebreads.co.uk